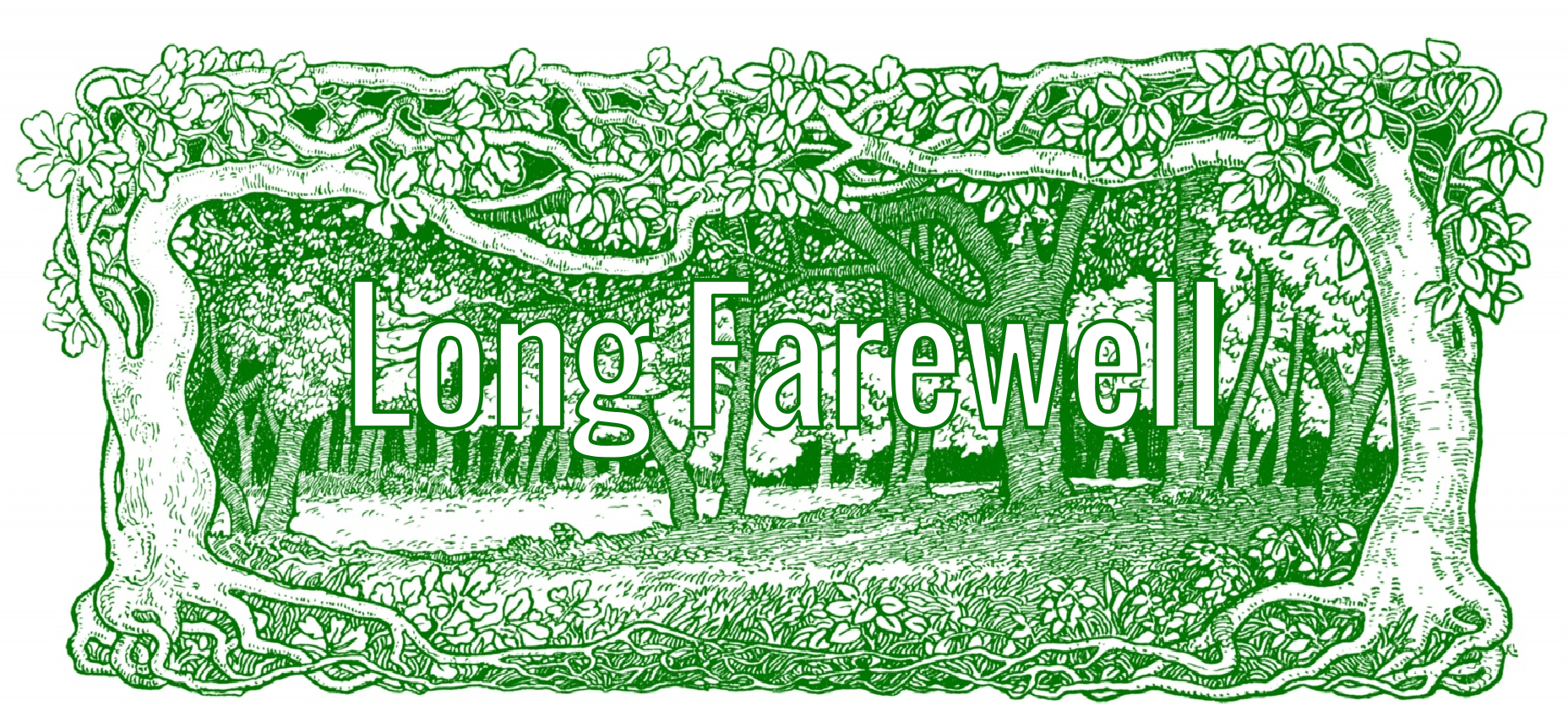 Long Farewell
New version is up: clarified rules, new potion recipes, small changes here and there.
New version is up: new tables, small changes here and there.

▂▂▂▂▂▂▂▂▂▂▂▂▂▂▂▂▂▂▂▂

Solo one page rpg.

You're a witch living in a hut among trees and marshes. Recently your mentor has passed away and you need to perform parting ritual, all the while helping people with their troubles and honing your brewing potions skill.
To play this game you need paper, pen, deck of playing cards without jokers, six-sided die and double-six domino set.

If you don't have dominoes you can get them here: Print & Play Dominos
You can read playthrough of this game here made by Ellie_Valkyrie ❤
Quotes from the playthrough




For this game, one must divide the poker deck into three separate, smaller decks, so I used some plastic gems I had laying around to indicate which deck was which. Yellow indicates "Day In, Day Out" cards, which are kind of like encounter cards that set the theme for each day of gameplay, green indicates "Trouble" cards, which are used to show what difficulties people will come to you with (or what certain omens will portend) and clear indicates mementos, which are collected during gameplay for the final rite of parting.




Day 3:

I had a terrible dream in the night about a great crackling orb pursuing me through the deep woods. I knew, even then, that it was her. I knew that it was Shell-Bangles come to warn me about the war already unfolding in Brialda. A lot of people are going to be hurt. A lot of people are going to die, and all for a king's pride. After the dream, I spent the day in bed, reflecting, grateful to live so far away from it all. Maybe it is too much to hope that my life will remain untouched by the war, but I can still hope. Gather herbs to help the coming wounded, but still hope nonetheless.




Day 6:

An elderly man came to me today seeking help from Shell-Bangles. All I could do was apologize and offer my own talents in her stead. It seems that in his old age, the old man's memories are slipping away, disappearing like dust in wind. Feverishly I paged through tome after tome trying to find him a cure, to find some way to bring back what he had lost. First, I brewed him a potion of amber knotberry, copper roll-rim and blood cranberry to restore his lost memories, then a potion of ruby stone bramble, dryad grasshopper and drowsy setwall to soothe his soul. He went away happy and refeshed, giving me a locket containing a tiny drawing of the one person he could never forget, his boyhood love. Looking at the drawing, I could feel his joy so strongly, but by the time I turned to share the feeling with him, to ask him more about it, he was gone and I was alone again.




Day 8:

I returned to my mentor's grave again, drawn back after a week of silence. In tending her grave, I took a moment to reflect on the first potion she taught me to make, one of serpent dragonfly, unicorn's cowberry, and ravenous chestnut that gave me the power to transform into a wolf and run free through the glens as she chased me. It is a beautiful memory, one that brings tears to my eyes even now, and so I returned to the hut, to life, and everything that must come after, hoping to find joy again in something, in anything on the road ahead.




Day 12 (Today, The Final Day of the Long Farewell):

The parting rite requires a delicately brewed potion of ingredients that must be combined in exactly the right fashion in order to be effective. It is not something that I could have done as a novice, as a seedling or a sprout of my trade. I swear that I can almost feel Shell-Bangles' hands guiding me as I combine the angel's bridewort with the starlight blueberry, the weeping moss and the moon cowberry. The smell, at first, is intoxicating, and as it spreads through the hut, I begin to perceive my mentor's spirit more and more, tangled into things, tangled into the roots and leaves and dried sticks hanging in bundles in our home. When the potion for the rite is complete, I gather the mementos from the twelve days of parting and make my way to my mentor's grave.

Laying the locket on the stone that marks her final resting place, I recall the first day when I realized that I was falling for her, that there was something in her spirit, her flashing eyes, her flying hair that had absolutely enchanted me. In as many ways as I wanted to share my life with her, I also wanted to be her, to be everything that she was.

Now you are, she whispers back to me, and I feel the words in my heart, blossoming through me, bringing fresh tears to my eyes. I want to believe her, but I'm not sure that, even now, I really do.

Next, I lay the farmer's feather on her grave and recall the feeling of hope that had danced through me when Shell Bangles had taught me how to make some of her most powerful healing salves and potions. The world of herbalism seemed so boundless to me in that moment, and I remember seeing a future for myself where I could become so much more than I was. A great healer, perhaps, to soothe and chase away the woes of the mind and body. Delusions of grandeur? Maybe, but those dreams do still pull at me sometimes.

If that is how you wish to live, then claim it, she whispers back to me, and it makes me smile again. Maybe being bound to the hut is not my future after all. Maybe traveling, bringing light and comfort to the downtrodden is my role. A night or two of rest after the farewell shoud be enough time for me to consider my future, to chart a path and follow it.

Reaching out, I lay the strand of the king's hair, soaked in fear, upon my mentor's grave, and instantly I recall the fear I felt on the day that she died. It was sudden, cruel and cold. Her spirit woke me that morning, and I knew the moment her fingers brushed through me that she was gone. Twelve days ago, and I spent the morning screaming, crying, tearing out my hair. Hours it took to build her funeral pyre. Hours, and all of them blurry, all of them horrific and twisting memories I'd much rather forget. Together, we set the pitch-barge alight. Together, we cut the hole in the earth where we laid the bundle of her ashes. Together, we placed the stone, and now, here, with the potion of the final rite in my hands, at the edge of never do anything together with her again, I am terrified. Absolutely terrified.

I am needed elsewhere, but you will be fine. You will be better than fine. You will thrive, she says, and all I can do is nod. Nod and hope, nod and trust. There will be others, she whispers, and maybe that is enough. Maybe that is something I can cling to like a raft in this wild sea of surging pain.

Wiping the tears from my eyes, I place the dried flower with its aura of joy on the stone. The final memento, and perhaps a fitting one to end the rite with. There are so many memories that I made with Shell-Bangles in this place, so many, and all so fleeting, but most of all, they were joyous. Even on the darkest nights or during the coldest storms, she would smile, and it was that smile, that bright spirit that always somehow brought me joy.

Now you can be that smile, that bright spirit for others, she says, and I know that it must be true. I had wanted to be with her as much as I had wanted to be her, and now, now maybe I have that chance. Maybe now I really can embody everything I loved about my mentor. Maybe somehow, I can be the light that continues on long after hers has sputtered out.

Readying the potion, I say my final farewells and recite the words for the ritual. Four pours for the rite, one to bring forth the passionate, wild and free soul that was Shell-Bangles, one to lift the curse, the self-imposed bonds that bind her to this land, and one to uncover the truth of her purpose in the hereafter. Only the fourth and final pour is a secret, one known only to Shell-Bangles, and as the last drop of the potion spills upon her gravestone, I feel a sudden lightness, a breath of wind.

And then, nothing.

Silence settles over the woods. She is gone.
Crafting system is based on Domino Mechanic. Learning system is inspired by Apprentice SRD.

Image is from here. Another image: forest by freepik. Moon and potion images: designed by pikisuperstar / Freepik. Bag image: designed by vecteezy

Download
Click download now to get access to the following files:
Long Farewell v3.pdf
523 kB
Sheet for Long Farewell.pdf
22 kB
Long Farewell v2 old version.pdf
572 kB
Long Farewell old version.pdf
161 kB
Comments
Log in with itch.io to leave a comment.
Interesting setting, cannot wait to play it
I really had a lot of fun playing through this game. The mechanics are well crafted and worked so smoothly. It was very enjoyable

I did a full write-up of my story of play over on my blog: https://www.fistfulofvalkyries.com/
ohhhh thank you!
It was very interesting to read, and I'm so glad you've enjoyed this little game. Also, your move with the king - so satisfying, he got what he deserves and now cannot harm anyone, perfect.
And your dominoes and cards are so cool ❤
Would you mind if I add link to your post in the game description?
I would be honored! Thank you
Oooh, this looks fun! I'm going to print this and add it to my list of games to play soon. I'll write up my experience too. :